3D printing is a technology that allows you to "print" real world objects, from digital files.
Why would I do that ?
The technology is becoming affordable : for a thousand dollars you can own your very own printer, or you could use websites like shapeways.com, that will print and deliver your object.
Printing can be done in a variety of materials, from hard plastic to metal and ceramics. The number of designs available online is amazing : you can print a cute espresso cup, a set of die, jewelry and toys. More designs can be found at sites like thingiverse.com.
Instead of buying new stuff, you could download or design a broken part, print it, and be good to go.
Where can I buy a printer ?
You could buy a MakerBot Replicator™, for $1,750, or build your own Rostock (delta robot 3D printer), for about $500 in parts.
the Rostock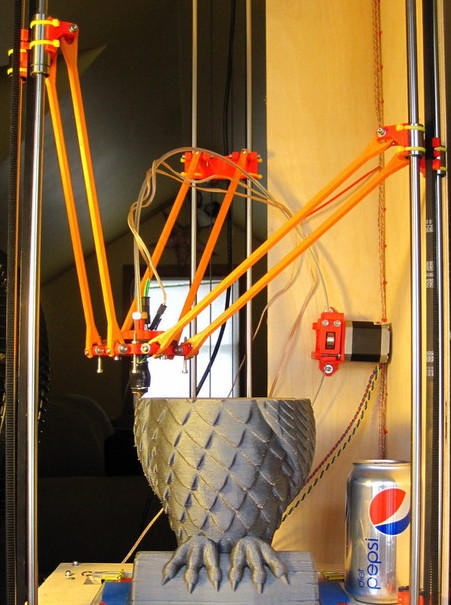 Future
The possibilities offered by 3D printing seem endless, from customized shoes and accessories to printing art, even printing drugs & organs ! Last year a 83-years old woman got a replacement printed jaw…
Piracy is of course going to be a big part of this world.
The software is always getting better too, with automated ways to find and fix weak spots in designs, for instance.
Legality, Dangers
You can print anything, from objects that are not available in any store, to some of dubious legality, such as a toy "brick" enabling you to join different children's construction toys.
In some places, sex toys are illegal. Just download and print, and you're in business. You can already find the files for handcuff keys that really work.
And, most worrying, you could print… a gun !
---