By now you must've heard about Prism, a formerly classified NSA program that, according to the Guardian and The Washington Post, gave them an unlimited and direct access to people's files stored at Google, Apple, Microsoft…
This news came to light days after it was revealed that telecom operator Verizon had a similar arrangement to give the US government access to the calls' metadata (not the calls themselves, apparently), all without any warrants or court orders.
While president Obama confirmed the existence of the program, mentioning "modest encroachments on privacy" and that the US Congress was briefed on the subject, all the tech companies mentioned by both newspapers have strongly denied any involvement.
A slide from the PowerPoint on Prism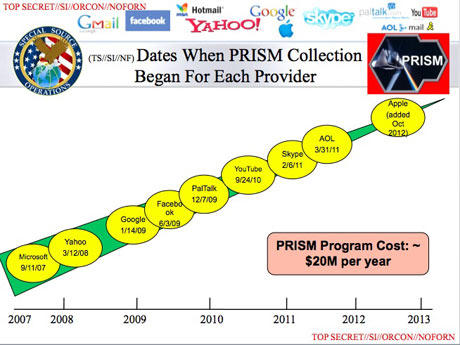 The whistleblower who leaked the story to the press is Edward Snowden, a 29-year-old NSA contractor and ex-CIA employee, who asked the Guardian to reveal his name. Edward has left is family, his career and his house to hide in Hong-Kong.
I have no intention of hiding who I am because I know I have done nothing wrong.

Edward Snowden in The Guardian
For a depressing look at this story, follow @_nothingtohide on Twitter, an account created by Daniel Sieradski that retweets messages using the "well, if you have nothing to hide" argument.
Personally I'm okay with it. I have nothing to hide from the government and I'm not a terrorist. Do what you have to to keep me safe.

— Tiffany Jensen (@LadyyMischief) June 10, 2013
I really do believe if you've got nothing to hide, you've got nothing to worry about. I mean it. You wanna know everything about me? Ask.

— Teenage Methuselah (@sYnthYte) June 10, 2013
Oh no! The government and police are spying on me.........fucking bothered. Nothing to hide. Get over it you perverts and perps!

— Sam.i.am (@TheRealSamGent) June 10, 2013
Store my info, listen to my phone, hack my PC I don't care I have nothing to hide....Have you ?

— John(@dunstablian) June 10, 2013
I have no problem being spied on by the government while they protect my country. I do nothing wrong, I have nothing to hide. Spy away.

— Topher Chase (@Topherrr_Chase) June 10, 2013
why is media using sympathetic word "whistleblower" 4 Edward #Snowden, who leaked secret #NSA program? He broke the law & made us less safe.

— Richard N. Haass (@RichardHaass) June 9, 2013
…I feel sick.
---