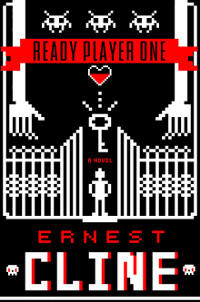 Ready Player One is Ernest Cline amazing first novel. The story takes place in 2044, with a world in ruins. In this pessimistic view of the future, the energy crisis has come and hit hard, bringing poverty and even famine all over the world. The only solace that people have is the OASIS, a 3D simulated universe created by the game designer James Halliday.
I couldn't put this book down. It is full of 80s references, from videogames to movies to table-top games. The OASIS, as described in the book, feels realistic, even though we do not have 3D glasses and haptic gloves yet. Like some current MMOs like EVE online, every user on the OASIS is on the same "server", and can interact, either via chat, fighting, or in private chatrooms, which are also in 3D and can be modeled to look like anything you wish. The virtual universe is separated into sectors, each home to hundreds of planets, and can allow magic, technology, or both to be used. The OASIS started out as a game, with player levels and weapons, but grew to something much more, and became synonymous with the Internet itself, where people meet, chat, and shop.
On the day of his death, James Halliday sends a message to every OASIS user, informing them that a contest is starting in the virtual world : the first user to find the three keys, and pass through the three doors that Halliday has hidden in planets in the virtual universe, will be granted total control over the OASIS, and obtain all of his fortune. On that day, his personal website changes, to show a simple scoreboard like those found in old arcade game cabinets. At the start of the contest, every one starts looking for the first key, with no luck. Years pass, and the contest starts being a joke to mock those who are still looking for it. But five years after Halliday's death, a name appear on the top slot of the scoreboard : A teenager had just found the copper key.
Ernest Cline was interviewed in the youtube show Sword & Laser, episode 4. A movie may be in the works, as the rights have been bought by Warner Brothers.
I give this book five hoverboards out of five :





Commentaires
---