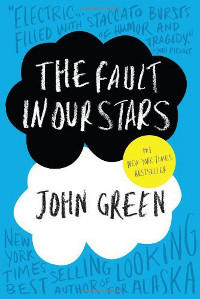 This is a book by John Green, and is a story about teens, love, and cancer.
We follow Hazel, Augustus and Isaac as they meet in support group, and as they fall in love, discuss life after death, and fly to Amsterdam (you'll see).
I first heard of John Green when he launched the "Crash Course" youtube channel with his brother Hank, an educational show where they talk about biology, world history, literature and ecology. I've now subscribed to everything they both do online.
It's not an easy subject to tackle, but John Green does it brilliantly. The story is sad, of course, but hopeful and often even funny. The love story really feels intimate, you feel privileged to have learned about it. If you're like me, you'll read this book in one sitting.
I give this novel the grade :
5 Nerdfighter logos out of 5





---