On the official twitter blog, we learn of the upcoming changes to the way twitter apps work with the site, the version 1.1 of the API. From the day of the release, applications will have 6 months to implement the changes.
The first noticeable change is that the Twitter display guidelines become mandatory for all applications that want to display tweets :
This is how a tweet should look, and that's final !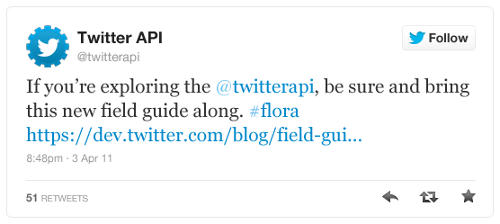 These guidelines are very strict, and mean that any application that want to display tweets has to do it exactly as it is on Twitter. Also, it will be forbidden to include data from any other social network with them, or to show the user's avatars without the corresponding tweet.
Second change, every request to Twitter has to be authenticated, even to obtain publicly available data, such as the main timeline. This is done "to prevent malicious use of the Twitter API and gain an understanding of what types of applications are accessing the API".
Third change, every application that uses the API is now limited to 100,000 users as of August 16 (or 200,000 users if they were already above the cap). This may be the worst decision, and Twitter has already restricted access to LinkedIn, Instagram, and Tumblr.
This concerns me quite a bit, as I have been working for some time now on a twitter web app, and I'm not sure if I follows the guidelines or not.
Commentaires
---