Ever since the announcement that Google Reader was going to close its door July 1st, RSS lovers have been looking for a replacement. A clear winner has emerged, and its name is Feedly.
Feedly can be made to look and feel like Reader, by displaying items in compact lists, and making keyboard shortcuts available, but it can do much more, such as displaying your feeds in a "magazine" look.
Feedly is free to use, and can import your data from Google Reader, making the transition as smooth as possible. While the retirement date approaches, the team is working hard to switch users from Google's servers to Feedly's own cloud, which they call the Normandy project. The move is a little bit harder to do, and they have already announced that users will lose their unread count, and history during the move, since it represents way too much data.
Your Reader data is not lost forever though, as you can (and should) log on to Google Takeout, to download everything you've done on Google's RSS reader.
Using Feedly is really nice, you quickly realize that Google Reader has not evolved for a while, as there are countless improvements that Feedly implemented already. Also, keep in mind that any review I do of Feedly is only valid as of today, the webapp is rapidly evolving so things could change soon. For instance, Feedly started as an plugin for Google Chrome, but can now be accessed like any webapp, using other browsers, at cloud.feedly.com.
The design of the site is pretty and functional, and has all the bells and whistles one would want, such as big "mark all as read" buttons, and links to share what you're reading, on Facebook/Twitter/Google Plus/Pinterest/Other.
Unfortunately, Feedly transforms the links using its own link shortener, which is a pet peeve of mine. If you share something on Twitter for instance, you'll have a link to feedly.com, redirecting to t.co, redirecting to a bit.ly URL if the author uses that, which could link to some newspaper own shortener, which links to the article you need.

Other than that, the Feedly team is really listening to its users, and implementing new features left and right. Their Normandy project is amazing, and provides an API, so that other apps can use the data. In summary, good signs everywhere, Google Reader is dead, long live Feedly !
Feedly is, of course, available on everything.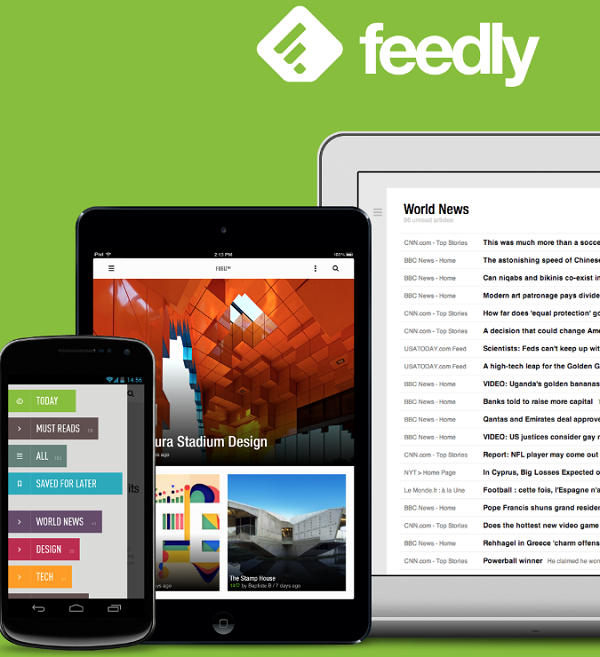 Commentaires
---